Siem Reap International Airport (REP) is the second busiest airport in Cambodia, after Phnom Penh International Airport.
Sieam Reap Airport is the nearest airport to Angkor, a UNESCO World Heritage Site which includes famous remains of Khmer Kingdom, such as Angkor Wat temple. In fact, the distance between Siem Reap airport and Angkor Wat is only 6km!
If this is your first time visiting Siem Reap and you're worried about what you need to do upon arriving at Siem Reap, don't be! In this post, I will walk you through the process of arriving at Siem Reap airport, how to get from Siem Reap airport to the town as well as the process of flying out of Siem Reap.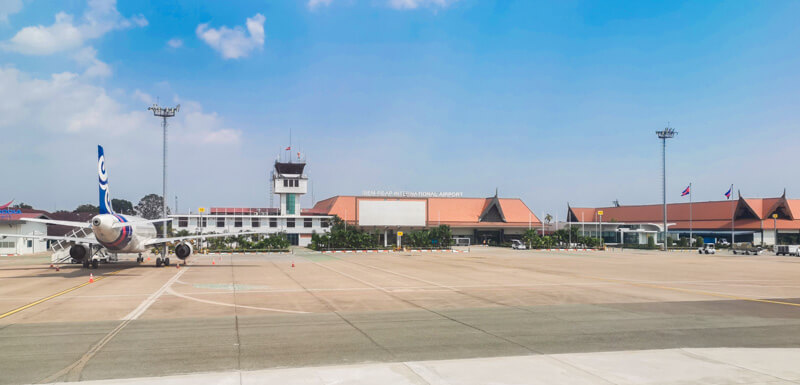 Arriving at Siem Reap Airport
1. Immigration Form & Custom Declaration
Typically, most airlines will be distributing the immigration form on the plane, so you can fill it up before landing. In addition to immigration form, you'll also receive a custom declaration form (similar to Indonesia). Do note that you need to declare if you're bringing currency or monetary instruments worth more than US$ 10,000. For details about what items require declaration, read this.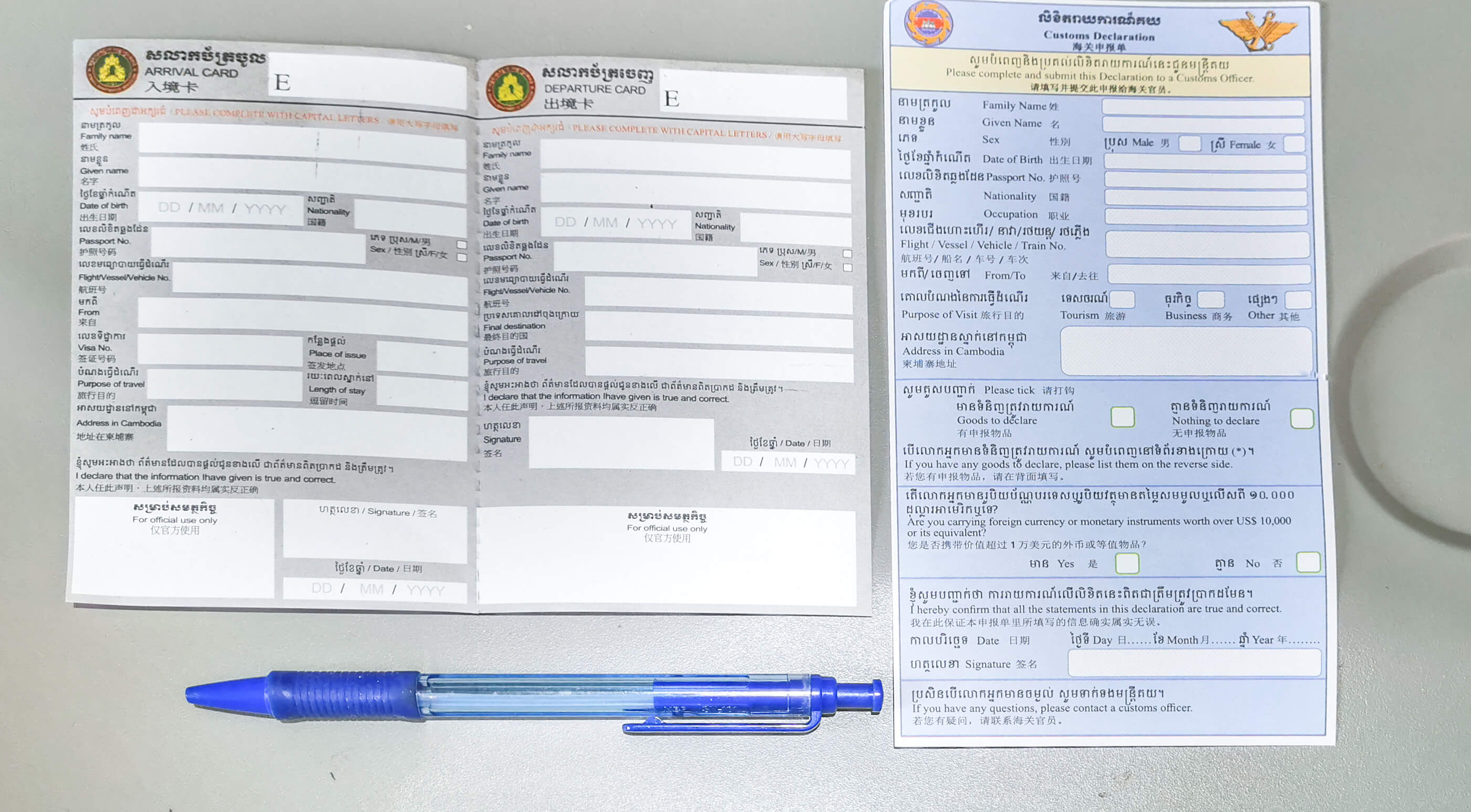 2. From Airplane to Arrival Hall
Now that your plane has landed, it's time to get off the plane. You'll have to walk down the stairs with your carry-on, walk across the runway under the blistering hot sun before finally arriving at the humble arrival immigration hall. Tips: don't bring too many carry-on.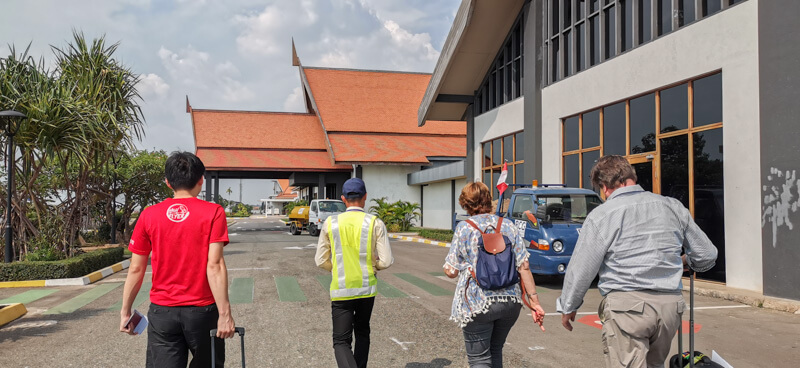 3. Visa
If you are from countries that require a visa to visit Cambodia, you can get your Visa-on-arrival at the Visa counter. Alternatively, you can apply for e-Visa before arriving to save time.
4. Immigration
The immigration hall is quite small so expect waiting in lines for some time!
5. WiFi
Thankfully, there's free wifi at the airport!
6. Baggage
This is the baggage collection area. Plenty of trolleys are available.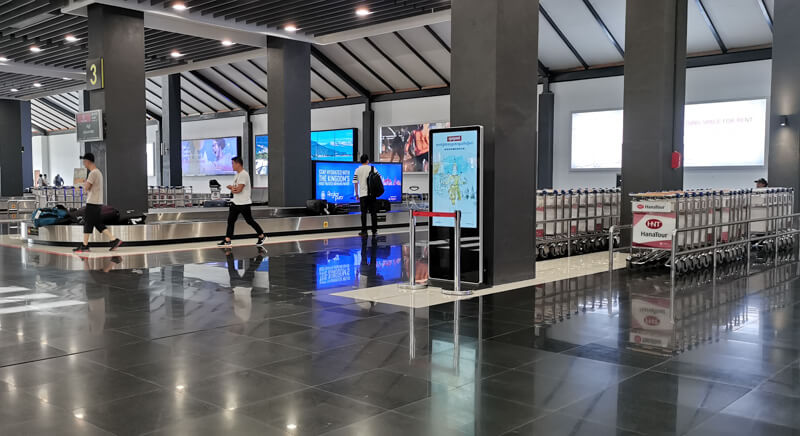 7. Money Exchange
There's also a money exchange counter at the baggage collection which offers to exchange your currency to either USD or Cambodian Riel (KHR). Personally, I feel that the rates are not great. We decided to change at Pub Street instead of here.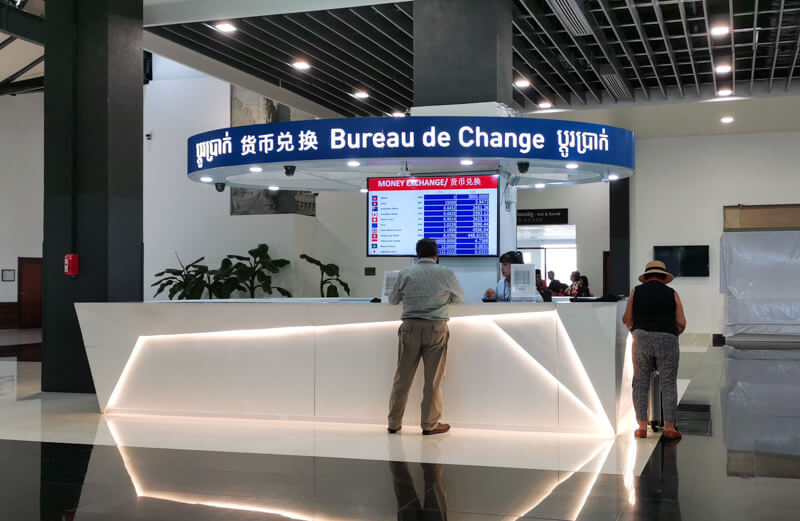 8. Transportation to Town
The distance between Siem Reap Airport and Siem Reap Town is about 9km, so the journey takes about 20 to 30 minutes. If your hotel doesn't provide airport pick-up, you can arrange your transportation from one of the 2 airport taxi counters.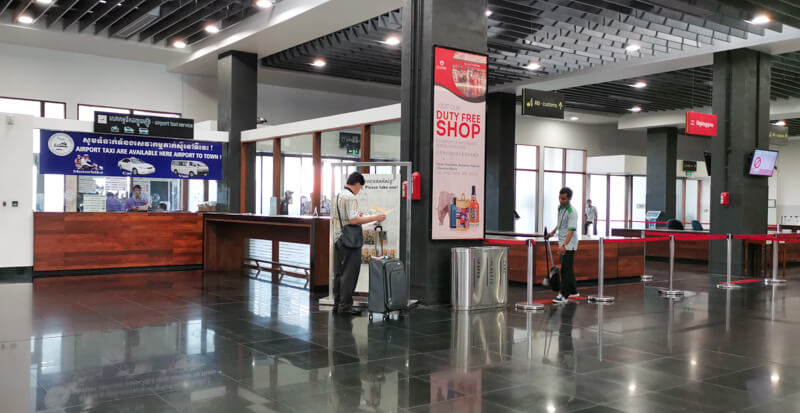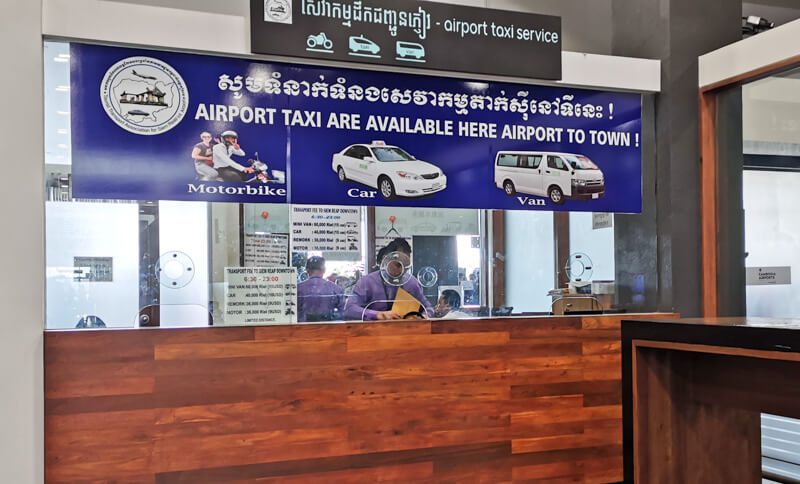 Right before the terminal's exit door, there's an "Airport taxi counter" where you can book a motorbike, remork, car or minivan to the city. The prices as of April 2019 are:
Motorbike: 36,000 riels / 9 USD
Remork (tuk-tuk): 36,000 riels / 9 USD
Car: 40,000 riels / 10 USD
Minivan: 60,000 riels / 15 USD
If you miss this counter and exit the terminal too quickly, don't worry, there's another taxi counter outside the terminal building offering same services with same prices.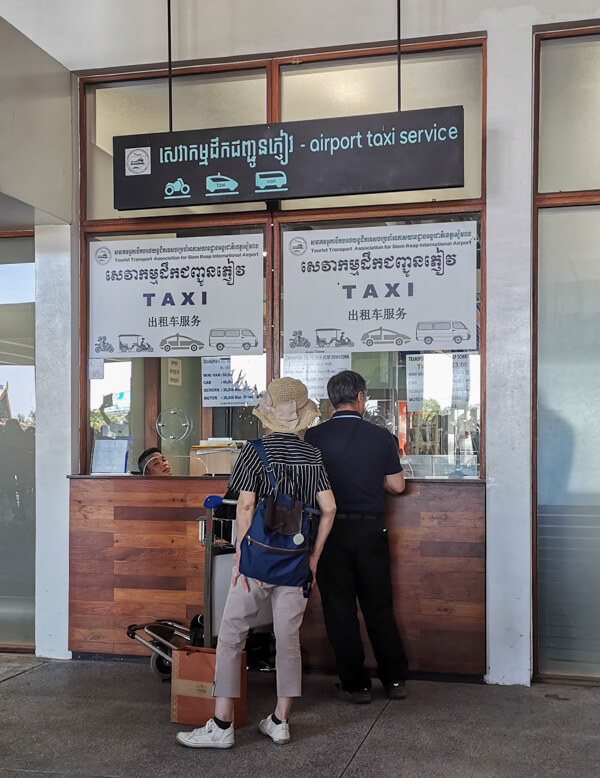 9. Car Rental
There's Europcar outside the terminal building if you're the kind of traveler to loves to drive. After coming out from the building, turn right.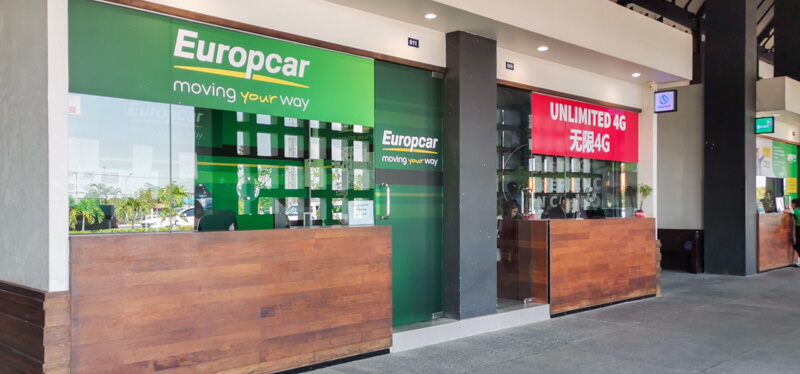 10. SIM Card
Also outside the terminal building, just beside Europcar, there are several mobile operator shops where you can buy local SIM cards, such as Metfone, Smart and another shop with no name (only a banner saying "Unlimited 4G"). SIM card plans and prices change all the time, so it's better to compare the prices between all the 3 shops.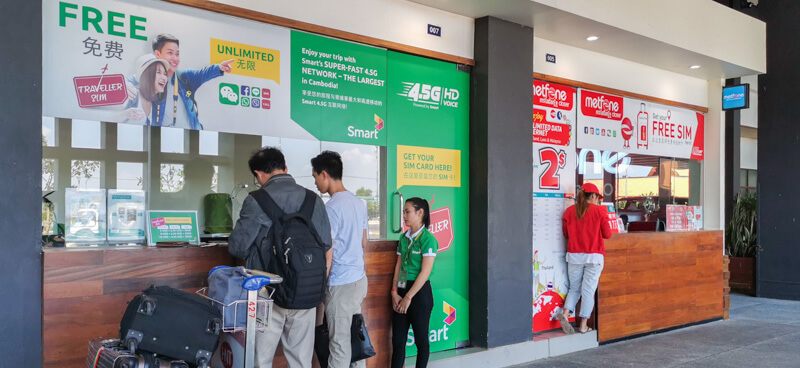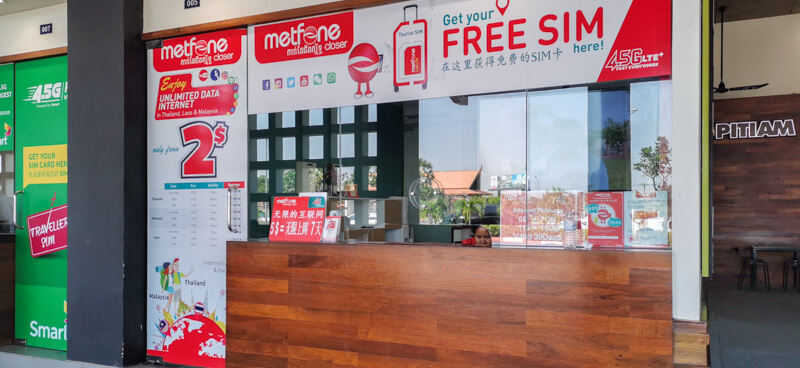 Departing from Siem Reap Airport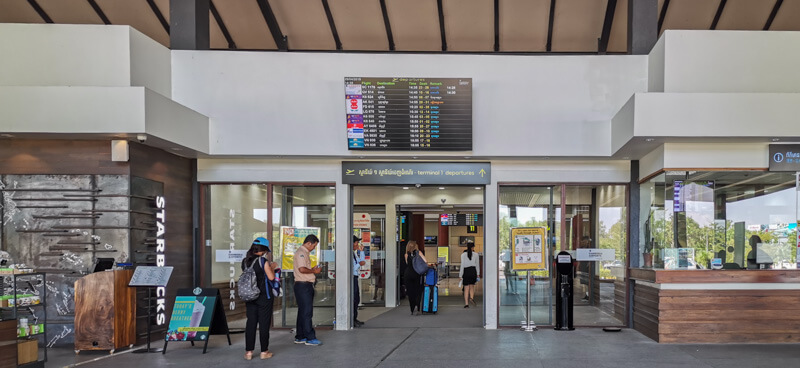 1. Checking In
Although small, the check-in hall at Siem Reap aiport is pretty neat with clear demarcation of queue lines. We tried to look for self check-in machines to avoid waiting in the long line (see photo below), but too bad, there weren't any.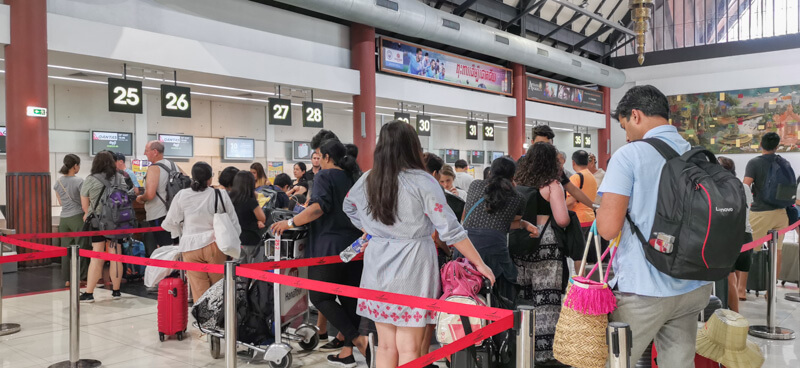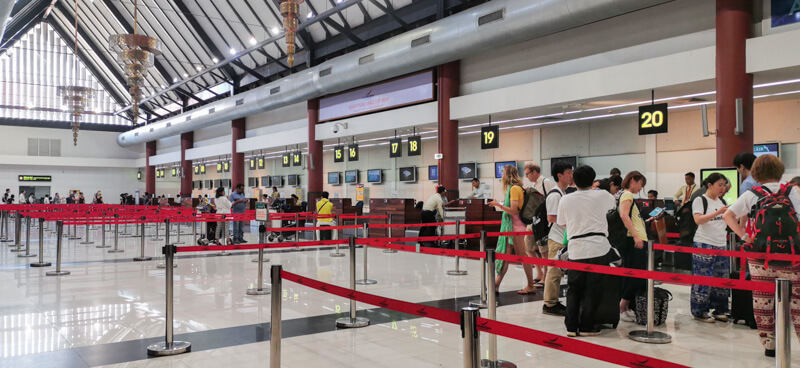 2. Food at Public Area
If you need to eat before your flight, at public area, there are Kopitiam and Starbucks.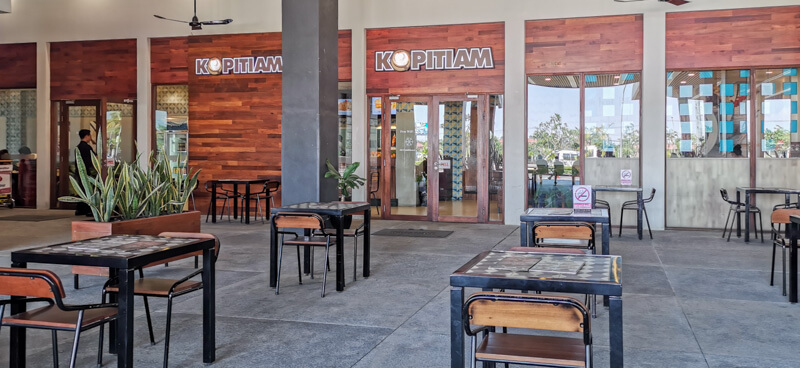 3. Food after Immigration
There are more restaurants at the airside, after immigration. The Siem Reap Food Village has Burger King, Dairy Queen, Yoshinoya, Dimsum Emperors and Taste of Asia. At the opposite of Food Village, there is The Coffee Club and FCC.
Personally, we feel that the food in Siem Reap Food Village is more expensive than Coffee Club. We had a large rice bowl at Yoshinoya for US$ 6.50 before finding out that Coffee Club actually sells Asian food too at cheaper prices. If you're on a budget, do compare prices between Coffee Club and the Food Village.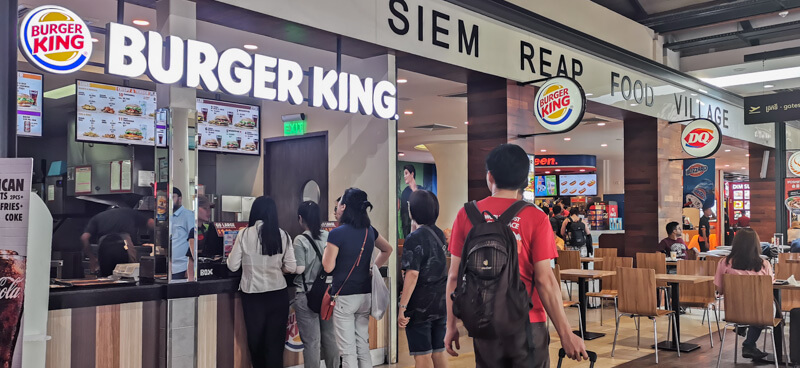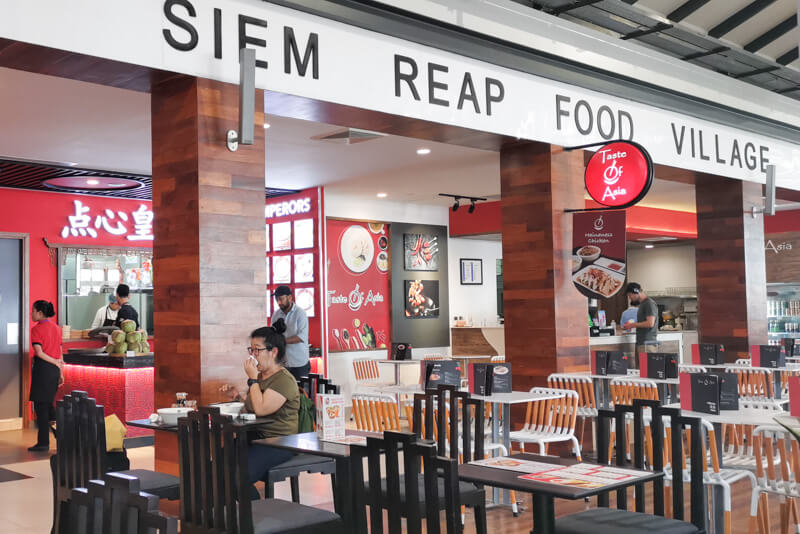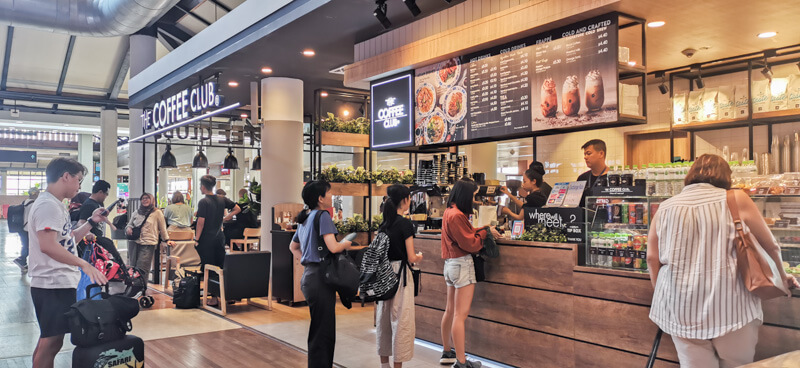 4. Duty Free Shop after Immigration
This shop is great for last-minute shopping. It offers Cambodian souvenirs and spices along with wines, cosmetics, etc.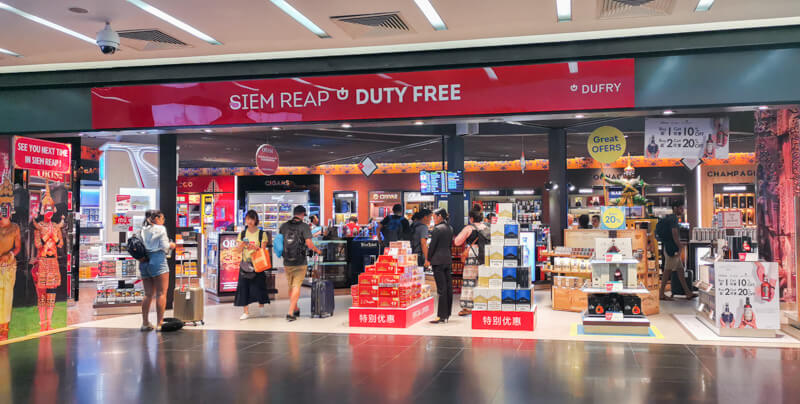 5. Retail shops
Beside the Duty Free shop, there are also other retails shops such as Levi's, Artisans D'Angkor, Claycult, Hard Rock, Relay, Senteurs D'Angkor and Soma Souvenir.
6. Lounge
There are 2 lounges in Siem Reap International departure area: Plaza Premium Lounge and Bangkok Airways Lounge.
Plaza Premium Lounge is a paid-lounge which can be accessed by paying the lounge fee, or by using Priority Pass. At the time of writing, the walk-in rate for a 2-hour lounge access is USD 39. However, you can get discounted price of USD 27.8 for 3 hours if you pre-book online
.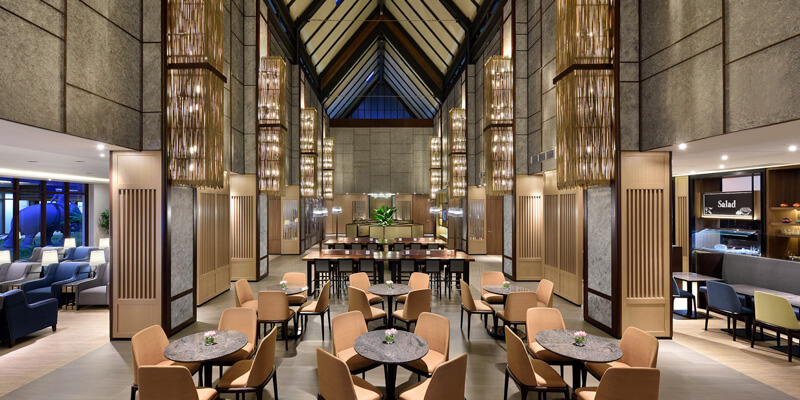 Meanwhile, Bangkok Airways Lounge (Boutique Lounge and Blue Ribbon Lounge) is open for Bangkok Airways passengers.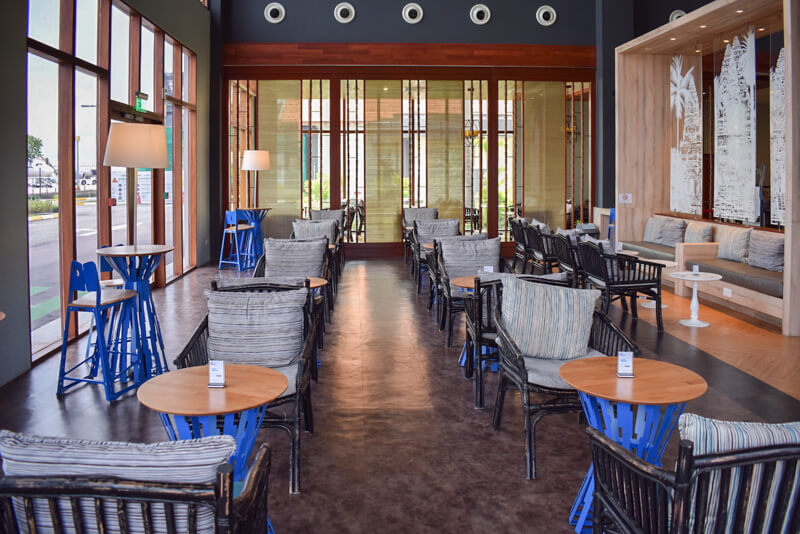 7. Boarding
Similar to the process of alighting from the aircraft when arriving at Siem Reap, boarding procedure requires walking across the runway and climbing the stairs with your carry-on. Again, I wish to advise you to avoid carrying too many carry-on as much as possible.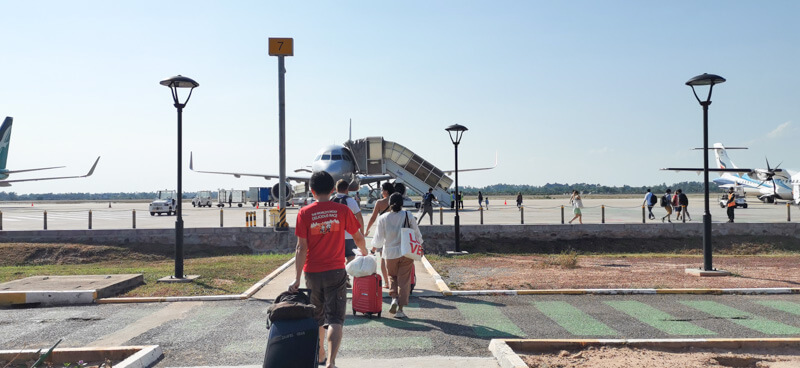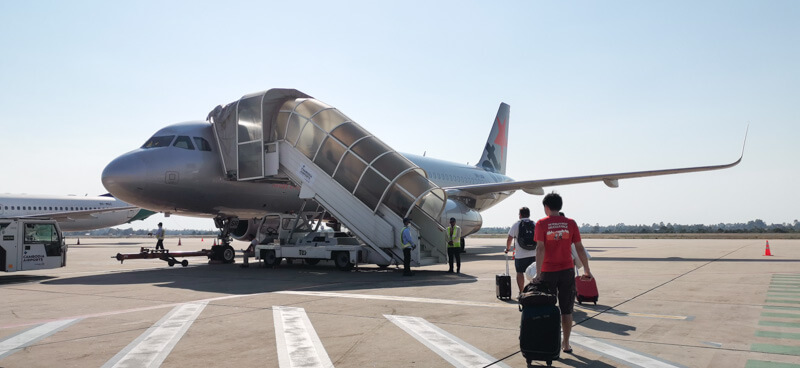 Conclusion
This concludes my brief guide on Siem Reap International Airport! This article is written based on my personal visit in April 2019. Over the time, things may change. I always update my posts whenever I have new information.
So, if you have any feedback about this article, feel free to let me know in the comments! Hope this article can be useful for your trip planning!